Cinedrome brings you the new Mani Ratnam film in the same week as it opens in India!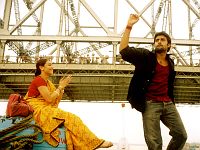 Yuva (Youth) is the new movie of the famous and respected South Indian director Mani Ratnam ("Dil Se", "Roja", "Bombay", "Kannathil Muthamital"/A Peck on the Cheek/Un Bisou sur la Joue") who like no other Indian filmmaker knows how to connect elements of the popular Indian mainstream cinema with sophisticated contents. In his movies he always deals more or less explicitly with social and political subjects and combines them in a virtuoso manner with a wonderful cinematography and even with songs, the singing- and dancing scenes which are a must in the Indian mainstream cinema (and even for western spectators those don't appear too kitschy). Mani Ratnam has made many successful films in the Tamil language, Yuva is his second venture with North Indian actors and in Hindi after the classic "Dil Se". The female leading roles feature the Bollywood top stars Rani Mukherjee and Kareena Kapoor (both also acted in one of the internationally most successful Bollywood movies "Kabhi Khushi Kabhie Gham", which was released last year in German speaking part of Switzerland and is now released in France). The male counterparts are Ajay Devgan ("Khakee") and the young but more and more popular Abishek Bachchan (son of Bollywood legend Amitabh Bachchan) and Vivek Oberoi ("Saathiya").

3 young men. From 3 stratas of society. With 3 entirely different points of view towards life... Their paths cross over the Hoogly Bridge in Calcutta.
Their lives change irreversibly...

Abhishek Bachchan as Lallan
Reflects the youth growing up on the wrong side of the law.
Believes that his needs are more important than the right and wrongs of life.
He lives for himself and feels that he owes nothing to anybody except himself. He fears no one and listens to none.

Ajay Devgan as Michael
Reflects the well-educated youth of today.
Believes that the educated, especially the student community should take an active part in society and politics and questions oneself before blaming everything else around them for the degeneration of the socio politic fabric.
He is a brilliant Ph.D. student and his thoughts go beyond himself. He thinks that an individual can make a difference to the world.

Vivek Oberoi as Arjun
Reflects today's cool and yuppie youth.
Believes that one should take care of oneself and the world will take care of itself.
He has never had to work hard for anything in life, be it to get through the best college in the country or get the best girls around the city.

Storyline
When the three young men are brought together by an accident on the Second Hoogly Bridge in Calcutta, their lives change irreversibly. Their change, their conflict, and their interactions with each other is the crux of the film. The film examines the lives of these three men and their families and the complex relationships between individuals who are very different, yet so similar.