Cinedrome presents the new Salman Khan love story and emotional/social drama. Watch it in cinemas in Geneva, Lausanne, Zurich, Basel and Bern.
Phir Milenge is a love story as well as an emotional and social drama about a woman being discriminated because she has been infected with HIV. It's the first mainstream Indian movie dealing with this subject, it is seen as an important step in the fight against AIDS in India and is supported by the Geneva-based UN organization UNAIDS. Phir Milenge was directed by Revathy Menon, who, after being actress for nearly two decades, in 2002 directed the movie "Mitr - My Friend" (India's first film with an all-woman crew) which was critically acclaimed. Although dealing with this serious subject Phir Milenge is a entertaining Bollywood movie with a first class cast featuring superstar Salman Khan and the great actors Abhishek Bachchan and Shilpa Shetty.
Story
Tamanna is charming. 26-year old young woman who breathes fresh air into the lives of everyone she meets. She works in an advertising agency and her fresh, innovative ideas has made the agency successful. She had a younger sister Tanya, who is a radio jockey and the only living member of her family.
At her school reunion, Tamanna meet Rohit, the best guitarist in school and the person she had a crush on. In the romantic settings of the college, love blooms between Tamanna and Rohit. They spend some beautiful moments together.
Circumstances put Tamanna in a situation where she has a lot of questions, for which only Rohit has the answers. Tamanna tries to get in touch with Rohit but all her efforts go in vain.
The situation turns out be a serious one and brings her life to a standstill. She even loses her job in the process. She decides to fight this injustice meted out to her. It's when she meets a young man, Tarun who brings into her life a ray of hope.
Will Tamanna set her life back in order? Does Rohit come back? Does she forgive Rohit? Can he live with the guilt of putting Tamanna through the ordeal that she did not deserve? Will Tarun give Tamanna the support and courage to battle the adversities? Can love conquer all odds?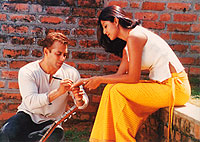 Salman Khan as Rohit Manchanda
Rohit, a musician by profession, is the darling of his art school. He is fun loving and extremely popular among students and teachers. He is highly adventurous and is always open to new experiences. His presence and his music brings life to parties. It's his larger-than-life qualities that makes him unique and special.
However, there is another side to Rohit: that of a recluse. He works best when he is alone and one with nature. There is always a shade of sadness in his eyes, which indicates that there is more to the man than it meets the eye.
A highly complex person.

Shilpa Shetty as Tamanna Sahani
A highly creative and talented person, Tamanna, is a strong, self-made person. She is the kind who is lively, sportive and is admired by all. The darling of her boss, she is the backbone of the creative team at the ad agency.
A responsible and mature individual, Tamanna dotes on her younger sister for whom she has been a mother and a father as well. Having lost her parents at a young age, Tamanna has had the strength of character to manage her home and her career since then.
Tamanna, is a moral and responsible individual. She believes in her work. Her career is the one thing that keeps her going and she is highly conscientious person.
Among her close circles, both at work and home, she is known for her ability to cheer people up and always look at the positive side of thing. She will face any challenge and come out tops.
She is a winner all the way.

Abhishek Bachchan as Tarun Anand
Tarun is a budding 28-year-old lawyer who is debonair, suave and extremely media savvy. He loves the limelight and is ever ready to accept any challenge to reach new heights. He is also a charmer and is generally the life of every party. On the other hand, Tarun is somebody who recognizes his own shortcomings. He is a man who would strive towards rectifying his faults to help a person or a cause that he believes in.
A highly volatile individual, Tarun can be both charming, amusing and bindaas and at the same time, highly emotional and honest in showing his true feelings.
He is also not somebody who would rest on past glories, but would constantly strive to reach new peaks.