Cinedrome brings you the new Shahrukh Khan blockbuster in the same week as it opens in India!
Main Hoon Na ("I'll be there for you") is the one of the most eagerly awaited Bollywood movies of 2004 as it features the most popular Bollywood superstar Shahrukh Khan (Devdas, Kabhi Khushi Kabhie Gham). It's a true "masala" movie, a mixture of all the traditional values of Hindi Cinema: family, romance, comedy, action and many greatly choreographed songs. This is no wonder as Main Hoon Na is directed by choreographer Farah Khan (Dil Se, Monsoon Wedding, Andrew Lloyd Webbers' Bombay Dreams musical) and the music is composed by the great Anu Malik.
The impressive supporting cast features Suniel Shetty, former Miss India and Miss Universe 1994 Sushmita Sen, the two dynamic and attractive young actors Zayed Khan and Amrita Rao and last but not least Naseeruddin Shah, one of the most respected Indian character actors (star of Monsoon Wedding and the major Hollywood production The League of Extraordinary Gentlemen).

He is on a secret mission: He's back to school – as a student!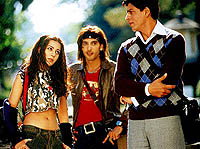 In Main Hoon Na, Shahrukh plays Major Ram Prasad Sharma who is responsible for the successful completion of "Mission Milaap". This ambitious project is aimed at bridging the political gap between India and Pakistan and bringing long-standing enmity between two countries to an end. However there are those who will go to great lengths to prevent this and it would appear that they are targeting Sanjana (Rao), the daughter of General Amarjeet Bakshi. In order to keep an ever-present watch over Sanjana and expose the enemy, Ram goes undercover at her school as a student, despite appearing more like a teacher! Here fun, frolics and romance help to conceal his much more serious intent. Not only that but, as a patriotic and loyal son, he is determined to carry out his father's (Shah) last wish, the fulfillment of which lies in the very same school. This task is also no easy matter, as it involves intense emotions and long-standing misunderstandings...


Mailing List:
If you would like to receive additional informations about this and future Bollywood screenings, please subscribe to our Bollywood Mailing List.
Please don't buy pirated VHS tapes, VCDs or DVDs of Bollywood movies. The picture and sound quality of those copies (even the pirated DVDs) are often awful. Only buy the official DVDs to support future distribution of Bollywood films in Switzerland and the production of good quality Bollywood films and DVDs. Original Bollywood-DVDs are generally shrink-wrapped and have a hologram sticker on the front cover.