Cinedrome brings you the new film from the makers of "Dil Chahta Hai" in the same week as it opens in India!
Lakshya features the top stars Hrithik Roshan, Preity Zinta and Amitabh Bachchan in leading roles and marks the comeback of Javed Akhtar as a scriptwriter after a gap of 15 years. It is a love story set against the backdrop of the Kargil India-Pakistan war and marks the journey of a young man who finds himself through this journey. It is a story of character, strength, belief and values that he inculcates through this journey of his own self-discovery as a human being. It is about a goalless 24-year-old Karan (Hrithik) who rediscovers himself as an army man on one of Ladakh's peaks under the watchful eye of Colonel Sunil Damle (Amitabh Bachchan).
But Lakshya is different from the usual Bollywood war movies. Above all it isn't about India vs. Pakistan, although it is set against an incident that happend in 1999 among the two states. It shows what the soldiers go through in such a tragic conflict also behind the scenes, it tries to bring a human face to these people and war is only a backdrop to the story about a young man finding himself. The film is not jingoistic.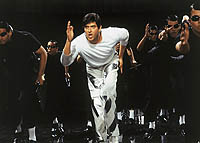 Lakshya is the new movie from director Farhan Akhtar and producer Ritesh Sidhwani which created the 2001 hit movie "Dil Chahta Hai". That movie had a very modern and western look, excellently drawn characters and a convincing story, even when judged by international standards. Their new film again is very professionally produced, the most expensive Indian movie of this year and eagerly awaited. It was partly filmed in the Indian province of Ladakh in heights up to 5400 meters/18000 feet over sea level in the breathtaking landscape of the Himalaya. Director of photography was Christopher Popp, a German cinematographer who is living in Los Angeles and was several times internationally rewarded for his work.
Looks play a vital role in Lakshya too, like they did in "Dil Chahta Hai". The production design of Lakshya, especially of the songs is something to look forward to. The music is quite different to the usual Hindi movie soundtrack and raises attention. The choreography of the song "Main Aisa Kyun Hoon" by Prabhu Deva is spectacular. Lakshya seems to be on track to recreate the magic that "Dil Chahta Hai" did three years ago! Lakshya is intelligent commercial Hindi cinema of international format and its qualities are compared to "Lagaan" by some people who have already seen it. So don't miss it on the big screen!
Storyline
"You never know where life will take you." These words could not have been more true than in the case of Karan Shergill (Hrithik Roshan), the protagonist of Lakshya. Karan Shergill, born to rich, affluent parents, lives life not worrying about tomorrow, like many of todays kids of the Indian upper class. Karan hasn't a clue about what to do with his future! He is forever at the crossroads of life. The only thing stable in his life is Romila Dutta (Preity Zinta), a bright and ambitious young woman. Romi, as she is known, loves Karan and believes that someday, he will find his calling. From one day to another, out of a fancy, he decides to join the army. Here begins his journey.
A journey that will test Karan physicall, mentally and emotionally.
A journey that will stretch him far beyond his limitations.
A journey that will force him to make bitter choices.
A journey that he will start as a boy but will end as a man...