Cinedrome presents Subhash Ghai's adventurous love story with historical background starring Vivec Oberoi. Watch it in cinemas in Geneva, Lausanne, Zurich, Luzern, Basel and Bern.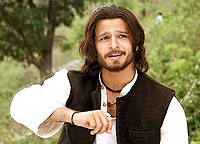 "Kisna – The Warrior Poet" is the new movie of north Indian hit producer and director Subhash Ghai. The film is set against the historical background of 1940s pre-independence India and is about the young and poor rural boy Kisna (Vivek Oberoi), who grew up in a region situated on the foothills of the Himalayas in northern India. He seems to be an ordinary native, but it turns out that he has the extra ordinary traits of Lord Krishna, just as his name indicates (in the local dialect "Krishna" is pronounced as "Kisna"). Kisna has skills as a poet, but also as a warrior. He saves the British girl Katherine (Antonia Bernath) from an enraged mob of nationalists which are fighting for the country's independence. Katherine is the daughter of a ruthless British Commissioner and as she is in highest danger in those chaotic times, Kisna takes it upon himself to escort her to the safety of the British High Commission in New Delhi. During the adventurous journey across beautiful Indian landscapes a tender attraction develops between Kisna and Katherine. Their love is challenged not only by their different origin, but also because Kisna is engaged to the innocent and beautiful Indian girl Laxmi (Isha Sharvani)...

"Kisna" features wonderful historical locations and elaborate sets from the colonial period India, talented actors from India and the UK and a great soundtrack from Indian hit composers A.R. Rahman ("Lagaan") and Ismail Darbar ("Devdas").
Subhash Ghai, the filmmaker responsible for 12 big Bollywood hits, not only produced and directed "Kisna", it was him who has conceived the original idea about a story set in the numbered last days of pre-independence India. From the beginning he didn't want to put emphasis on the hatred between some Indians and the colonialists, but wanted to show that amongst the British too were people who loved and revered India.

Vivek Oberoi is one of the most popular young Hindi movie actors, who choses his roles carefully: He acted in such exceptional movies like the stylistically very interesting "Company" about the Bombay underworld and two Mani Ratnam Stories which combined mainstream Bollywood elements with social and political issues, "Saathiya" and "Yuva".

The two leading female actors are both newcomers, Antonia Bernath, selected directly from a London drama school and Isha Sharvani, a talented theatre artiste and dancer with the face of the ideal Indian beauty.

Kisna also features the two renowned Indian actors Om Puri, who gained huge popularity with his British film "East is East", and his cousin Amrish Puri, who personated ideally villains not only in countless Bollywood movies but also in the second "Indiana Jones" film. Unfortunately "Kisna" is Amrish Puri's last movie, as he passed away quite recently on January 12th 2005 in Mumbai.